Published June 17, 2009
A father carries pictures where his money used to be. ~Author Unknown
Stumped for a gift idea for Dad? The Farmer's Market can help. Vendors will be preparing gift baskets designed especially for Dads' tastes. Judy's Jams, Jellies and Jarfuls will have baskets brimming with tasty treats. Debbie Harris will create a coffee lovers' gift basket featuring Bueno Bean, an organic coffee. Make the Farmer's market your Saturday morning stop and shop for that unique gift for Dad. On your way out the door, grab some non-perishable food items for Rural Visions Food Bank and drop them off at the canteen counter at the market. Then treat yourself to a McLion's breakfast. Sounds like a great start to the weekend.
Congratulations to the Rock Lake Seniors Club who celebrated their 30-year anniversary on June 10. Marie Smith, president of the United Senior Citizens of Ontario was the featured guest speaker. The U.S.C.O. is an organization which promotes the best interest of senior citizens in a variety of ways. It is involved in the education and promotion of wellness, health, fitness, safety and recreation to its members. U.S.C.O. has been instrumental in achieving such benefits for seniors as Meals On Wheels, OHIP coverage, assisted drug coverage under the Ontario Drug Benefit plan, the property tax grants, the Bill of Rights for Nursing Homes and reduction in car insurance premiums. The Rock Lake Seniors Club meets monthly from September to June for lunch, games, speakers, bus trips and crafts. For further information contact president Ruth Peters. 613-536-0312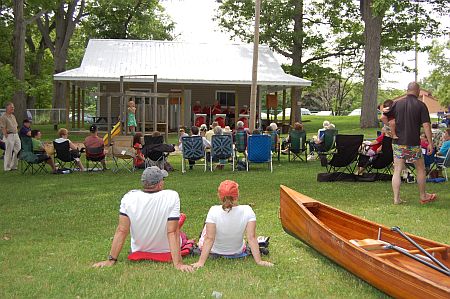 Verona's first "Music in the Park", free summer concert was a huge success. Over 100 people enjoyed the light breezes and shade of McMullen Beach and toetapped to the music of The Confederation Jazz Band. Verona has a beautiful beachfront park that made the perfect venue for the concert. The next concert will be July 12, featuring the country music of Red Rose Express.
Play euchre in Bellrock next Thursday June 25. Lunch will be served at noon and euchre will start at 1 pm. Cash prizes and lunch included for $2.00. Bellrock Community Hall. 613-374-5426
Verona Lions' Annual Jamboree will soon be here, July 9th, 10th & 11th. There will be games of chance, great Bingo prizes, famous jamboree burgers and fries along with a fantastic midway. Canteen opens at 5:00 PM, other activities start at 6:30 PM each day. Free parking.
Edward Goodfellow and Andrew Fazazkerley will once again be combining their passion for golf with a great cause. They will walk and golf 24 hours straight, playing 146 holes of golf at Rivendell Golf course on June 25 and 26. Last year, a government initiative matched every donation with $9 for every $1 raised. The $17,000 they raised was turned into $170,000 for the Southeastern Ontario Cancer clinic in Kingston. Donations will again be matched $9 for $1 this year. Help their worthy endeavour. Visit strokesforehopes.ca or contact Cathy Goodfellow 613-375-6651 for ways to donate or contribute.
Debbie Lingen
For more information about Verona, Ontario please contact:
Debbie Lingen
debbie@lingens.com
613-374-2091