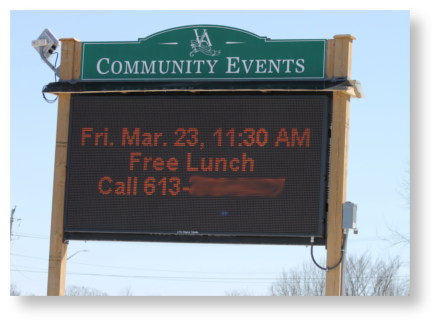 Verona Electronic Billboard (VEB)
The Verona Electronic Billboard (VEB) is located on the west side of Road 38 at the south entrance to Verona, just north of Foodland. It is maintained by the Verona Community Association (VCA).
It is seen by everybody who drives into or out of Verona, every day.
The VCA is pleased to offer local Organizations and Businesses the opportunity to advertise their events, taking advantage of all this traffic, for a very reasonable weekly rate.
Full details are found in the VCA VEB Policy Document but here are the highlights of that document:
Advertising space on the VEB is available to organizations and businesses local to Verona (i.e. Verona, Bellrock Village, Godfrey, and Hartington).
Advertising messages must pertain to a specific event (e.g. celebrations, events, promotions).
Advertising space consists of a message displayed for 2 minutes repeating every 14 minutes on each side of the VEB (appearing approximately 64 times on each side throughout the day, and approximately 128 times per day in total).
The one week period for an advertisement starts on Sunday morning and ends on Saturday evening.
Advertising messages for submission to the VCA are to be submitted via the online form or printed on the application form and mailed (see links below) .
Payment must be submitted with the application form. Cost is $50 per week.
Applications for advertising space must be received two weeks prior to the requested start date for messaging on the VEB.
To place your ad on the VEB, please review the full policy document and either:
print the application form using the links below (Links open in new tab). (PDF reader required) or
use the online form to submit your ad.
For more information please contact the VCA by phone or email at:
613-777-8980
vca@xplornet.ca